Product Code: MDS011
Product Description:
Our Coronavirus SARS-CoV-2 RNA Extraction Kit / RNA Isolation Kit offers simple solutions for RNA isolation. Our kit is designed to extract and purify RNA. Recovered RNA is compatible for COVID-19 RT-PCR Testing. We use advanced silica bind and elute technology for pure RNA extraction.
Maintain Purity and Integrity of Extracted RNA
Compatible with all COVID-19 RTPCR Kits
Extraction in high quantity of Total RNA
Many Sample types supported including cells, blood,tissue and FFPE tissues
Principle
MDS™ Viral RNA Extraction Kit / RNA Isolation Kit represents a well-established technology for general-use viral RNA preparation. The kit combines the selective binding properties of a silica-based membrane with the speed of microspin and is highly suited for simultaneous processing of multiple samples. The sample is first lysed under highly denaturing conditions to inactivate RNases and to ensure isolation of intact viral RNA. Buffering conditions are then adjusted to provide optimum binding of the RNA to the membrane, and the sample is loaded onto the spin column. The RNA binds to the membrane, and contaminants are efficiently washed away in 2 steps using 2 different wash buffers. High quality RNA is eluted in a special RNase-free buffer, ready for direct use or safe storage. The purified RNA is free of protein, nucleases and other contaminants and inhibitors. The special membrane guarantees extremely high recovery of pure, intact RNA in just 20 min without the use of phenol/chloroform extraction or alcohol precipitation.
Shipping and storage
Spin columns should be stored dry at room temperature (15–25°C); storage at higher temperatures should be avoided. All solutions should be stored at room temperature unless otherwise stated. Under these conditions, spin columns and all buffers and reagents can be stored until the expiration date on the kit box, without showing any reduction in performance
Intended Use
MDS™ Viral RNA Extraction Kit / RNA Isolation Kit is intended for molecular biology applications. This product is not intended for the diagnosis, prevention, or treatment of a disease.
Kit Contents
| MDS Viral RNA Extraction Kit | 250 Reactions |
| --- | --- |
| Spin columns | 250 |
| Collection Tubes (2 ml) | 750 |
| Centrifugal Tubes (1.5 mL) | 250 |
| Buffer 1 | 1 × 50 ml |
| Buffer 2 | 1 × 25 ml |
| Buffer 3 | 1 × 25 ml |
| Buffer 4 | 1 × 75 ml |
| Wash Buffer 1 | 1 × 150 ml |
| Wash Buffer 2 | 1 × 150 ml |
| Elution Buffer | 1 × 15 ml |
Click here to download product brochure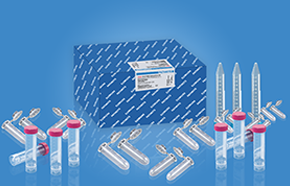 Kit Contents
| MDS Viral RNA Extraction Kit | 250 Reactions |
| --- | --- |
| Spin columns | 250 |
| Collection Tubes (2 ml) | 750 |
| Centrifugal Tubes (1.5 mL) | 250 |
| Buffer 1 | 1 × 50 ml |
| Buffer 2 | 1 × 25 ml |
| Buffer 3 | 1 × 25 ml |
| Buffer 4 | 1 × 75 ml |
| Wash Buffer 1 | 1 × 150 ml |
| Wash Buffer 2 | 1 × 150 ml |
| Elution Buffer | 1 × 15 ml |